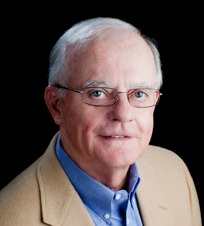 On Writers and Actors, Sequestered and on the Same Page
December 2020
Article by Arthur Kerns
This year the annual International Thriller Writers went virtual because of COVOD-19. Instead of holding a live conference in New York City, they recorded individual sessions featuring 120 authors, two at a time, discussing tradecraft. I just finished another forty-minute session and found it instructive and enjoyable. This is life today for writers and others during the time of the pandemic. We writers are on our computers, watching, and taking part in virtual meetings.
Several of the ITW authors remarked that sequestering is normal for writers. "We're always in our caves," said one. However, one author reflected, this time it might be a tad different. The lock-down he found boring and affected his writing process. It's distracting, he said, and found it difficult to come up with original ideas. Best, he advised, to edit an existing manuscript.
My wife has her painting, and I have my writing. We're luckier than most people who lost their jobs or have no hobbies. Still, we face the relentless distractions from the TV recounting COVID-19 statistics; the turmoil in the streets; the strident political ads. A natural escape is entertainment. Being a thriller writer, I gravitate toward shoot-'em-up films and TV series. After I binged on the entire Homeland series and Jack Reacher episodes, my wife had enough. "We are watching Christmas shows on Hallmark."
Yes, Hallmark TV. Guess what, at night we find viewing the channel soothing, especially while sipping a glass of wine. Wags have dished the shows as cheesy, banal. I disagree. True, while some episodes appear rushed to distribution, others I find well crafted. They mostly follow the familiar romantic tropes, just as mystery novels and thrillers have their own conventions. Hallmark shoots most scenes in Canada on a tight three-week schedule at two million dollars a pop. That's opposed to an average of ten million in Hollywood. They must have borrowed from Clint Eastwood's lean production formula.
The film industry has fascinated me since childhood. When I was young, my father worked for Warner Brothers and would come home and regal us at the dinner table about meeting movie stars like Betty Grable, Henry Fonda, and Robert Taylor. Dad was about to go into acting but went to war instead. On Saturdays, he'd take me to work, and I'd sit and watch films. I got to visit and explore the old Philadelphia vaudeville theatres turned movie houses; sit there and gaze up at the high ceiling with crystal chandlers framed by three rows of balconies. Films are in my blood, so I recognize a well made one when I watch it.
Hallmark features many regular actors, and two of the more polished performers are Bethany Joy Lenz and Autumn Reeser. You can depend on watching an excellent film when they are the lead performer. Both are single moms, now at home trying to maintain their careers. While viewing a recent show with my wife, the thought occurred: how were actors handling this crisis. Actors like writers rely on networking, constant interaction with members of their community to keep current with trends and opportunities. Hollywood has shut down production by sending home directors, actors, sound technicians, and screenwriters. They canceled auditions. Film people rely on "doing lunch" as much as writers rely on meeting in critiques groups, attending conferences, and email.
Actors are, as Autumn Reeser said, storytellers. They are like us, but whereas our medium is the printed word, she says, "We use our body, voice, and expressions to tell the story." A little Googling reveals that actors are champing at the bit. They use social media, for example Instagram and Twitter, to communicate with peers and fans. They also use film industry podcasts and visual shorts. Autumn Reeser uses Instagram to keep in touch with fans and peers. Joy Lenz shows short videos on her Facebook page.
Time for all us writers to burnish our image. Many writers are using social media to stay visible. We use podcasts and social media. Blogs? I'm writing one now. Zoom and Vimeo are connectors of choice I see today. As I pointed out, I attended the International Thriller Writers Conference on my computer. This September I'll attend the Sisters in Crime Desert Sleuths online Phoenix conference. It isn't like being there, schmoozing with your buddies, and meeting new writers and editors at the bars. My writing group is about to reconvene after six months, again via Zoom.
No question about it, when we emerge from our caves it will be a New Age. They'll be new rules and an unfamiliar landscape, a new marketplace that will take getting used to. One of the ITW authors remarked that he predicted few COVID-19 themed stories emerging after they release us from confinement. Readers may not want to recall how dull and stifling life was then.
As a writer, I worry how the forced isolation from our colleagues will affect our creativity. In time, we'll see.